Nielsen is celebrating the launch of TOPTEN, its first consumer-facing mobile application, which gives users access to personalized lists of the most popular TV, music, movies, websites, consumer products and more. TOPTEN "continues [Nielsen's] legacy of innovation," said Mitchell Habib, whose teams helped create the application. "It's a unique new tool, available nowhere else, to understand what people are actually watching and buying in their communities.
Mitchell joined the Board of Directors for Redwood City, California based YuMe, a technology company that helps brands deliver effective digital video advertising campaigns in today's highly fragmented market.

Mitchell visited the University of Michigan Ross School of Business campus on June 20 to kick off the Advanced Leadership Program, a cutting edge leadership development program for Nielsen executives.  "In order to continue Nielsen's success over the next 90 years, we are building internal leadership that injects innovation into everything we do, delivering critical and valuable information for our clients as the way consumers watch and buy evolves at breakneck speed," said Mitchell.
His appointment acknowledges the significant contributions the Global Business Services organization has made and continues to make in productivity and innovation and recognizes Habib's role in leading the organization as the primary delivery vehicle for all Nielsen data and measurement, globally.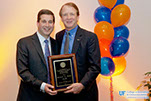 Mitchell Habib received the 2011 Alumnus of Distinction Award from his alma mater, the University of Florida College of Journalism and Communications for his distinguished career and work in the community. Just 112 recipients have been honored with the award since it was established in 1970 to recognize the accomplishments of UF alumni with degrees in advertising, journalism, public relations and telecommunications whose work earns respect and stature for the college and the university.
In February, The Nielsen Company hosted 120 University of Florida (UF) students at its inaugural university case competition. The Nielsen Case Competition was developed to solicit innovative ideas in support of Nielsen's strategy, to strengthen recruiting ties between Nielsen and the University of Florida and to provide students with a chance to interact with some of the top leaders in the consumer insights industry. UF alum and EVP of Nielsen Global Business Services, Mitchell Habib, championed the GBS-sponsored event.